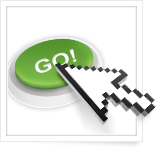 So you've customized your meeting room and now it's time to invite people and begin the meeting. Here are some tips to get maximum productivity in less time out of every event.
A brief review
With ClickMeeting, you can invite up to 25 people to each meeting and up to 1000 participants to a webinar or a presentation. Either way, it's really easy.
You can send out invites with one click by inserting the email addresses. Or you can just send a link to your meeting – but don't forget to include the login details if password protected. Attendees can also phone in using a PIN number. There's no installation required, so they can literally click to join in.
Some quick tips
Choose roles for your attendees, whether presenters or participants, which will later determine what functions you make available.
ClickMeeting gives you a lobby where attendees can wait for the meeting to begin. This lobby is as rebrandable as your meeting room, so why not take advantage of your "captive audience"!

Why not leave a greeting or special message in the lobby for participants and make their wait more pleasant with some muzak or an entertaining audio clip about your product(s).
Note: If you host the meeting, you'll see who's in the lobby. When you're ready to start, you'll just open your meeting room to them with one click.
With ClickMeeting you can choose whether your meetings use audio only or video. ClickMeeting allows for multiple simultaneous video streams, so it's practically an "in person" conversation. Add screen sharing to that, and you'll have a productive meeting where people can discuss, collaborate and exchange ideas with ease.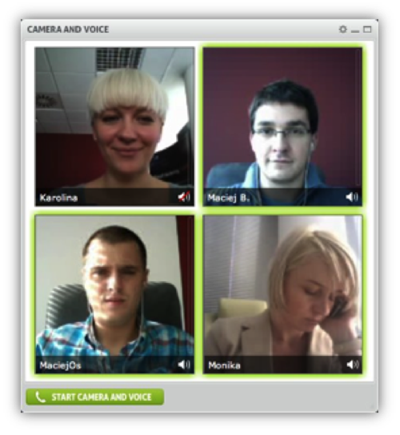 You're in control!
Now, the great thing about ClickMeeting is that you have complete control over the meeting or webinar – who can speak and when, for example (Don't you wish you could do that in regular meetings!).
Of course, participants can agree, disagree, raise their hand, ask for help or ask the presenter to speak up. However, as the organizer or presenter of your event, you get to turn on and off other participants' microphones and cameras or invite an attendee to a private chat. Imagine how this control can help you avoid cross-talk and chaos in online trainings or workshops!
Attendees can also use Text Chat to ask questions and exchange ideas without attracting attention or interrupting the meeting flow. Chat allows asides and exchanges to occur that often help bring participants back into meetings when they get "lost", and can also provide a valuable feedback loop for moderator.
Want more feedback about attendees? You can see exactly where they come from, which is pretty useful if, for example, you've organized an "open webinar". Just click the statistics and you'll see the map – instant geo-location data!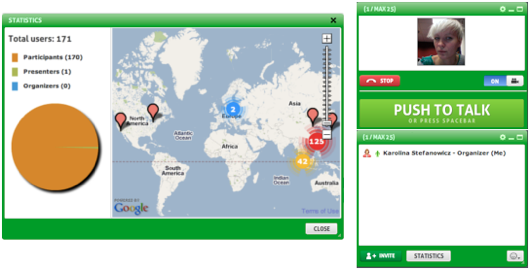 So, without getting too technical, those are some easy things you can do to ramp up your meeting ROI. We'll be back next week with more online meeting tips and ideas on how you can use the tool for your individual purposes. In the meantime, don't forget to log in to www.clickmeeting.com and give it a test drive.