Internet technology isn't perfect worldwide, at least not quite yet. Sometimes it makes sense for attendees and presenters to dial in using the good ol' telephone — or even a cell phone. So we made it easy. 
You may be thinking, "Isn't it a hassle to look up phone numbers when there's a problem?" That's not necessary. We're providing them here, just to make sure you know about them and where to find them.
They pop up for participants automatically in several convenient places:
Invitations
Any time you send a system-generated invitation to a meeting, it includes the most convenient local phone number.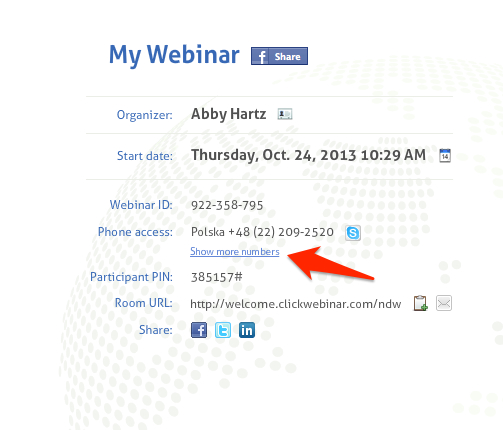 The Participant PIN is unique for each meeting and is used to control the privacy of your meeting.
When a participant dials in, the system prompts them to enter the PIN and press #.
Notice there's also a Show more numbers link, in case the participant has changed location since receiving the invitation. When clicked, the pop-up will show more dial-in numbers.
Waiting Room
The same information is posted in the waiting room of your meeting room. Again, there's a link to display the complete list.

During Meeting
If the participant has a poor connection during the meeting, he or she can switch to telephone participation any time, while continuing to receive the video feed.
If they click the Audio icon, an interactive tool appears: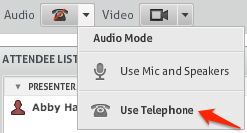 This allows them to switch to telephone and displays phone numbers when clicked.
Tip: Notice the tool also recently has given the option to dial in using European numbers for Berlin and London. Those, however can be used by presenters and participants with audio privileges.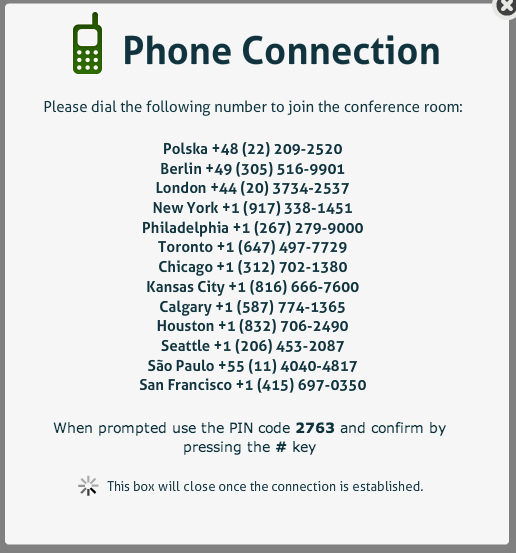 Inside Your ClickMeeting Account
And in case you need to look up the phone numbers, they are posted in your account when you log in: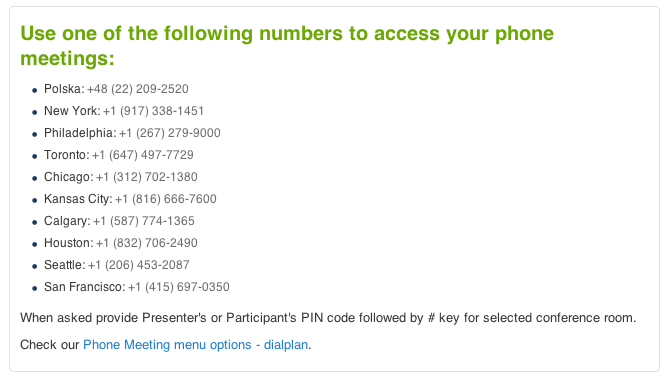 Lots of options
Of course the phone numbers work on cell phones too, but you already knew that, didn't you 😉 So save the number in your cell phone address book just in case.
With so many options, there's always a way to tune in to your meeting. It's part of our ongoing strategy for maximizing your attendance and maximizing the value of your ClickMeeting account.
So give it a try and let us know what you think.