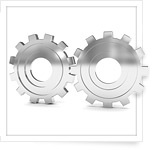 We haven't posted in while, but that doesn't mean nothing was going on at ClickMeeting. We've been flat out creating the items we're going to chat about today. So happy to be back with plenty of news about features and options now available for your online meetings and webinars. Here's the short list of some updates we're sure you'll like.
First of all, you'll notice that the sound transmission has improved dramatically. In short – no more echo! This also means that the "push to talk" option is g-o-n-e! Need I say more?
Actually, there's a lot more, so let's talk about…
Simultaneous chat translation
This is really cool. If you run a webinar that's joined by people from all over the world (and you know you can now see their location when you click on their names in the attendee list), they can now chat in their native languages and others will see the translations in their language (along with the original).
.
To turn on translation, choose the "Translate" button next to the chat settings.
.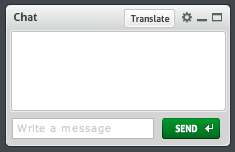 .
The software, which uses Google engine, auto-detects your language, but you can also set the language up manually when you turn on this option.
.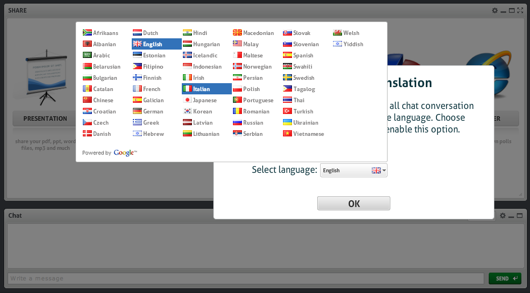 .
There are 52 languages available altogether so your meetings and webinars can now be truly global. 🙂
Moderated chat
Too many people chatting at once? There's now a solution that will help you avoid "chat chaos". It's a moderation tool − and again, it's very easy.
If you are the presenter in a meeting, you can choose chat moderation from the chat settings. You'll see the panel which serves to moderate chat comments – you can choose to accept them or not, or edit them first. And none of the attendees (other than presenters you choose to be moderators) will see this panel on their screens.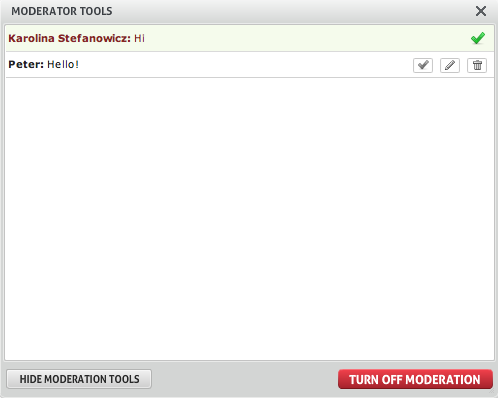 Now you have a useful tool to control all that chatting during your webinar!
Social media sharing
Finally, you can share the news that you're attending or organizing a meeting with your contacts on social networks – friends on Facebook, business partners on LinkedIn and followers on Twitter. So you can add attendees with social buzz.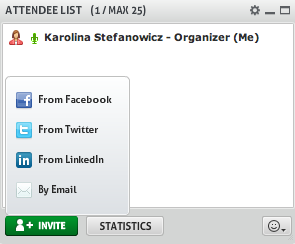 You can even sign up with Facebook when you join somebody's meeting (instead of giving your name and email address) – so long as the organizer hasn't enabled meeting registration.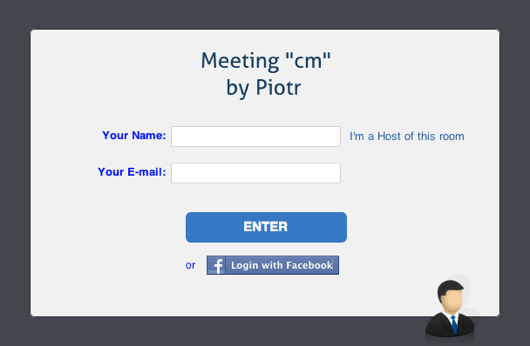 You'll have to remember to configure the settings first – which basically means you'll need to authorize ClickMeeting to connect to your social media accounts, just as you would in other applications. You can easily do this from your dashboard by clicking on the link right below the rebranding option.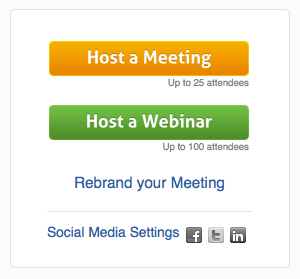 Mouse and keyboard control in screen sharing
Now there's also a convenient way to take over another user's keyboard or mouse when you need to demonstrate something, for example. Just select the person from the attendee list and choose the "Screen Access" option.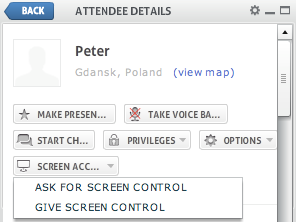 The whole process is very intuitive and "polite" as you need permission each time you want to take control of the other person's keyboard.

What's more, when you're controlling someone's keyboard and that person moves their mouse, they temporarily gain control back.

Imagine how efficient, smooth and fast your online collaboration can now become.
Browser sharing
This has been a very popular request from our customers − and you should know by now that we really pay attention to what you say.
So finally you can share web pages with others without having to share the whole desktop. Just choose "browser" (first on the right) in your ClickMeeting room and paste a link. It saves you a ton of transfer time so the whole meeting will be much more efficient. Use it for website design demonstrations and much more.

And we've also fixed some bugs you reported, which we constantly do, of course. 🙂
Phew, that's quite a lot and I'm sure I haven't covered everything. But that's more material for me to write about next time, so stay tuned for more news and updates.
Let me know which functionality you think will be most useful for you and why and… see you soon.