They said the world would end on 21 December. But as you may have heard, it didn't happen. However, the year 2012 is ending —definitely! So we decided to take one last glance at all that happened at ClickMeeting. A lot happened this year, and we believe the New Year will bring even more great things for you —and for us.
Awards
We were thrilled to be named in the SaaS Directory as one of the 25 best Software as a Service providers. ClickMeeting was the only online meeting software company to earn a spot in the top 25.
And in a review of conferencing software, ClickMeeting placed in the top 3, beating out some of the biggest competitors in the industry. And when you compare our low prices, ClickMeeting was a clear winner.
New Logo and Brand Identity
We decided to give our brand image a facelift, so we started with our logo. We tilted our letter "C" and added an up-swooping click icon to symbolize how easy online communication can be.
Then we chose new colors and even designed a new font to reflect the youthful energy of our company. The result? Lots of positive feedback from our community of loyal users.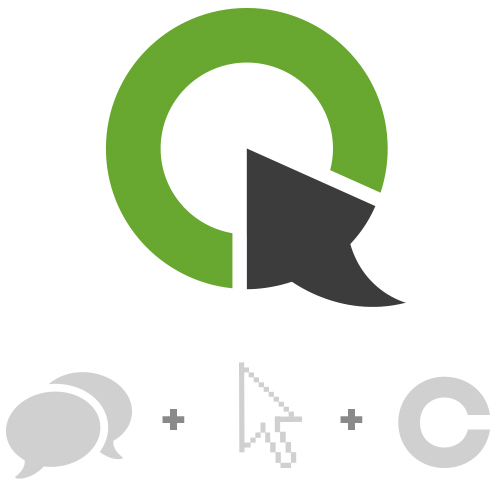 Events
The ClickMeeting Team (along with Implix sister-company GetResponse) travelled to Hannover, Germany for CeBIT 2012, the number-one event for the digital community.
We made new friends and ran into quite a few of our current customers. If you haven't experienced CeBIT, make it a point to check it out in 2013.
Trends in Mobility and Connectivity
Just a few years ago, only giant corporations could afford the special equipment and setup needed for online meetings.
Now you can conduct ClickMeetings from your desktop PC or Mac, laptop or MacBook, iPad or Android, Blackberry Playbook or smartphone. You can even use (gasp) a telephone — that thing on the desk with a wire to the wall . . . you pick up something called a receiver and talk to it 😉
Mobile Apps
Mobile technology can't seem to stay in one place. Come to think of it, I guess that's the whole idea 😉 And as the hi-tech community battled for dominance, there was only one clear winner — the consumer.
So if you have a mobile pad, you can participate in a ClickMeeting, whether your pad format is iOS (iPad), Android (Galaxy) or Blackberry (Playbook.)


Facebook App
More and more, people use social media to organize their lives. And since Facebook continues to be such a dominant platform, we've brought online ClickMeetings to Facebook.
Our Facebook App lets organizers promote their online meetings and webinars and send invites. And participants can join the meeting without leaving Facebook. The interface is simple to set up, easy to use, and wildly popular with our highly social customers.
New Audio & Video Improvements
And speaking of our fabulous user community, that's who gives us some of our most useful ideas. So we jumped on their suggestions for how to improve the ClickMeeting experience.
Now you can manage your audio source more easily and with more options. And we added a few touches to make it easier to control your video settings. Plus we made video available in the more popular panoramic video view.
Higher Affiliate Commission
Today's social media culture gives people the ability to ask friends for recommendations before they spend their money. That's perfect for ClickMeeting, because online meetings are a social thing to do — even for business.
We took a look at how we reward referrals and decided we could do better. So we increased our payout from 20% to 30% and now continue to pay the commission for as long as the referred account remains active with us.
API for Developers
Being connected means making it easy for our user community to access ClickMeeting. So we made it easy for developers to create software interfaces — both for software sold commercially and for proprietary software.
Developers now have free access to our API documentation — programming commands and routines to do things like edit meeting details and generate token lists. And we're constantly creating our own plug-ins, available free at our App Center.
One-Click Meeting Reminders
This is a great example of how our user community inspires us to make improvements. Well, "inspires" may not be the right word. You guys hounded us for months J
And we're so glad you did! You've told us that Meeting reminders dramatically improve attendance at your meetings and webinars.
Widgets and Innovations
Along the same lines, we developed new widgets you can copy-&-paste onto your website, so visitors can register for your webinar or, if in progress, view number of attendees, time remain, etc.
And we gave you more options for sending invitations: copy-&-paste email addresses, choose from your ClickMeeting contacts, or choose from contacts who registered from previous webinars.
Webinars
Because our goal is to help you succeed, we hosted a webinar with one of the most well-known experts in online presentations: Roger Courville. His educational webinar "Design the WOW! Into Your Virtual Presentations" was a big hit with the attendees.
And it was a virtual showcase for all the innovative features of ClickWebinar. The replay is still available, so if you missed this great presentation, click below. 🙂
Infographics
We constantly perform research to uncover new trends in online meetings. Rather than publishing raw data, we called on our talented designers to create infographics.
The result was interesting information in a compelling format. Find out surprising facts about World Wide Webinars and a National Earth Day Infographic that highlights the cost savings made possible by online meeting technology.
So thanks for being with us this year. We're hoping for big things in 2013 — for ClickMeeting and for you too. So let us know how we can help.