Wideokonferencje – klucz do sukcesu studenta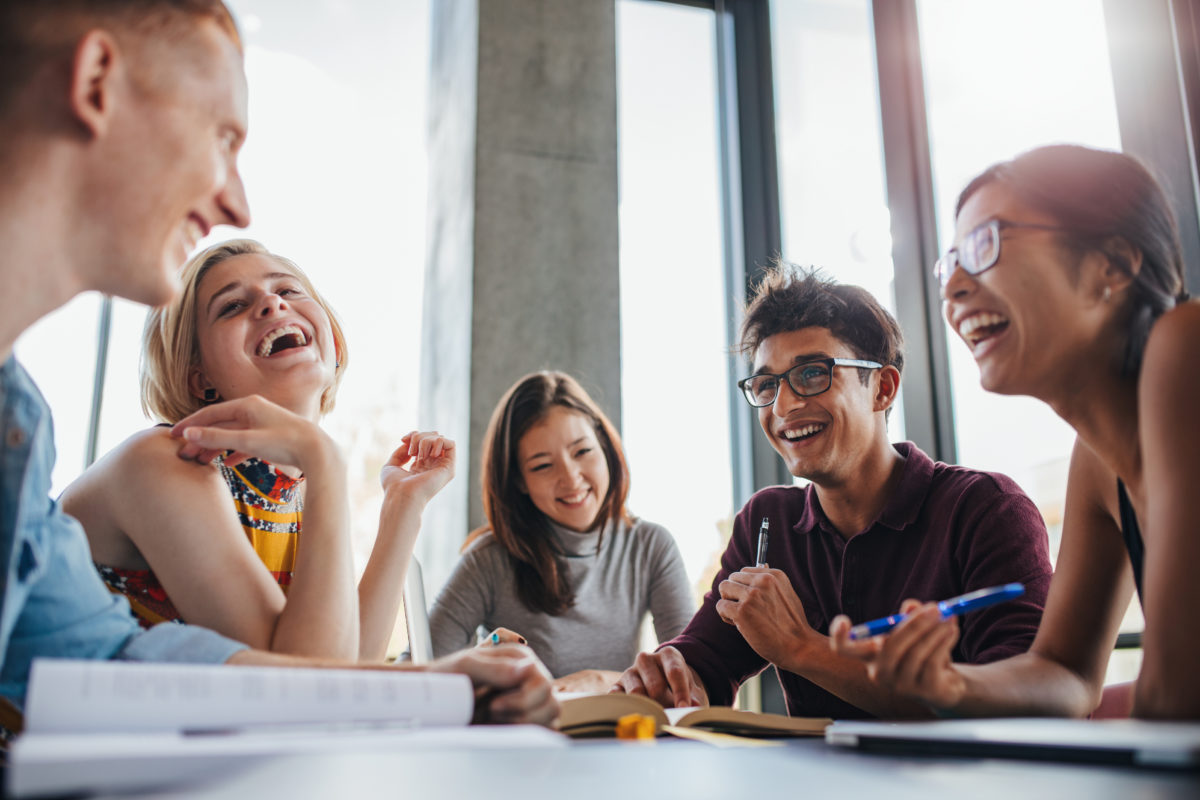 Utrzymywanie równowagi między zajęciami, pracą a życiem towarzyskim i planowanie kariery to dla studentów uniwersyteckich norma. Szukanie sposobów na oszczędzanie czasu i zwiększenie wydajności natomiast – priorytetem. Podobnie, jak dostęp do materiałów bibliotecznych przez Internet czy zajęcia odbywające się w tej samej części kampusu. "Pracuj sprytniej, nie ciężej" – to mantra każdego studenta.
Uniwersytety zaczęły rozumieć plan dnia studentów. Aby im pomóc i dostosować się do ich potrzeb, oferują usługi mające ułatwiać studenckie życie, takie choćby jak technologie usprawniające naukę i pracę nad zadaniami. Wiele uniwersytetów, w tym te należące do Ivy League, proponuje studentom wideokonferencje do projektów grupowych, ćwiczeń czy na użytek własny. Uniwersyteckie działy IT oferują pełne wsparcie, a oprogramowanie może być wykorzystywane zarówno w akademikach, jak i salach komputerowych na terenie kampusu.
Łatwiejsze projekty grupowe
Projekty grupowe są nieodłącznym elementem życia uniwersyteckiego (a później zawodowego, więc stanowią dobry sposób na przygotowanie do pracy). Ogrom zadań może czasem przytłaczać, ale praca i tworzenie czegoś z innymi to czysta przyjemność. Wideokonferencje pomagają sprawiedliwie podzielić obowiązki, a także ocenić rezultaty. Co więcej, o wiele łatwiej wziąć udział w spotkaniu internetowym niż w tradycyjnym zebraniu – lub przełożyć jego termin w razie konieczności. Spotkania mogą być nagrywane, więc możesz do nich w każdej chwili powrócić i bez większego wysiłku udokumentować swoje postępy.
Wspólna nauka bez wychodzenia z domu
Co dwie głowy, to nie jedna – zwłaszcza jeśli chodzi o naukę i wzajemne motywowanie się do działania. Choć nauka w grupie jest świetnym pomysłem, czasem nie wszystko idzie zgodnie z planem. Ktoś może się spóźnić albo myśl o opuszczeniu akademika w kistopadowej aurze może być zbyt zniechęcająca. Wówczas sytuację może uratować wideokonferencja. Korzystanie z platformy, na której studenci mogą organizować spotkania i udostępniać dokumenty, znacząco ułatwia naukę i eliminuje przeszkody.
Sposób na korepetycje
Niektórzy studenci radzą sobie z przyswajaniem materiału znacznie lepiej, niż pozostała część grupy. Takie osoby mogą być dla nich świetnym źródłem informacji, a niekiedy nawet poświęcają swój czas na dzielenie się wiedzą w formie korepetycji. Większość kampusów zapewnia te usługi za darmo i udostępnia miejsca takie jak biblioteka czy specjalne centrum korepetycyjne. Z takich lekcji mogłoby skorzystać więcej studentów – jak również więcej bystrzaków zgłosiłoby się na ochotnika – gdyby miało odbywać się to w formie 20- lub 30-minutowych spotkań na platformie do webinarów.
Wzrost zainteresowania organizacjami studenckimi
Członkostwo w organizacji studenckiej to warunek konieczny dla ambitnych studentów, którzy chcą poszerzyć swoje CV o dodatkowe referencje. Bycie członkiem grupy a faktyczne osiąganie celów to dwie różne rzeczy. Biorąc pod uwagę ogrom zajęć, pracę i inne ważne rzeczy, znalezienie czasu na jedną lub dwie organizacje studenckie może graniczyć z cudem. Wideokonferencje ułatwiają uczestnictwo w życiu grup studenckich. Dzięki nim możesz wziąć udział w spotkaniu Amnesty International na temat kolejnej zbiórki lub pomóc przygotować projekt dla uniwersyteckiej grupy muzycznej i nie robić tego kosztem swojego życia towarzyskiego lub ocen.
Studiuj za granicą, pozostań w kontakcie
Wiele studentów marzy o podróżach. Teraz ich marzenia mogą się spełnić dzięki uczestnictwu w programie studiów za granicą. Lato we Francji lub semestr we Włoszech daje nowe spojrzenie na świat i może zaowocować propozycją praktyk za granicą. Nie zapominajmy oczywiście o zabawie i wspomnieniach na całe życie. Po spędzeniu semestru w innym kraju studenci wracają na kampus i często czują się zagubieni w uniwersyteckiej rzeczywistości. Korzystanie z platformy do wideokonferencji pozwala im utrzymywać kontakt z przyjaciółmi podczas pobytu za granicą oraz znacznie ułatwia powrót do codziennego życia.