Running effective webinar campaigns on social media is the answer to a fundamental question: what is the best way to drive audiences to a webinar? And as a thriving digital marketer, you know that remarketing will be one of the pillars of your successful campaign. To make it happen, you need a tool to track your users and reach them with upcoming ads. This is where Google Tag Manager comes into play!
Although reports and surveys highlight webinars as a meaningful content marketing format and its role at every stage of the B2B buyers' journey, it is still a challenge to get those attendees to a webinar registration page.
Going for remarketing ads on social media is a smart move to promote your webinar. However, bear in mind that your webinar campaigns won't work without a user's tracking data.
In this blog post, we're going to walk you through the connection between Google Tag Manager and webinars.
Why do you need Google Tag Manager?
If you use various channels for your campaigns to get your webinar content in front of more users, managing your tracking code might get tricky. Facebook, Twitter, LinkedIn,YouTube ads, Google ads – it all can consume your time and resources.
Not to mention that implementing various tracking codes on different media platforms can involve some technical assistance, for instance, from your IT department. It's mainly because various websites use particular tags.
Luckily, you can hack it all with the help of Google Tag Manager.
Quoting after Angela Petteys from Moz:
Tags are snippets of code which are added to a site to collect information and send it to third parties. You can use tags for all sorts of purposes, including scroll tracking, monitoring form submissions, conducting surveys, generating heat maps, remarketing, or tracking how people arrive at your site.
In terms of using remarketing in your upcoming webinar campaigns, you can implement tags on your website, blog, or your webinar pages like a profile page, registration page, waiting room, or webinar room.
What can you achieve with Google Tag Manager?
Thanks to GTM, you can add and modify tags on sites of your choice, without having to outsource your work with the help of internal or external IT experts. To track your visitors, you also don't need to deal with the source code on your website or application.
All will require, however, some copy-paste work. You will have to place a GTM container snippet into your pages, and, in the end, you will get the opportunity to manage all tracking codes from a GTM panel.
The container snippet, which is a piece of JavaScript and non-JavaScript code, looks like this: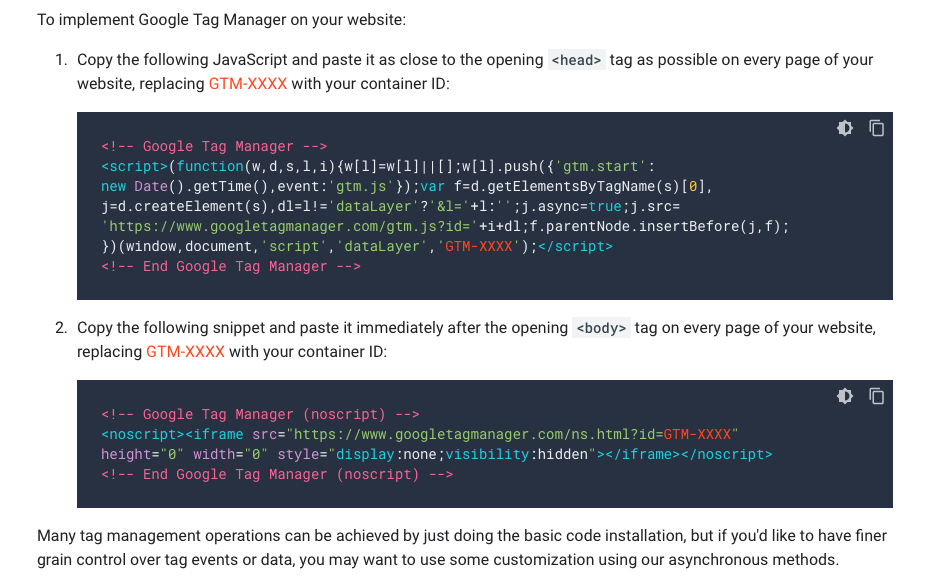 How will you benefit from this, business-wise? We're talking about targeting your prospects – people who have come across your company's website, read an article on your blog or downloaded an eBook or a white paper.
Once they visited one of your pages or took action, your tags will enable you to reach them with your remarketing campaign. So, as soon as you schedule your webinar as a lead generation tool, you will already have a target audience.
How to integrate Google Tag Manager with webinars on ClickMeeting?
OK, so it makes total sense to paste tags on your company's page and blog. Because this way, if you are about to start hosting a webinar, your first move will be attracting people who visited your pages (which means they are initially interested in what you do). That's prospecting.
But let's take a step forward. If you organize an event, you will put some webinar pages into play – registration page, profile page, waiting room with agenda, and thank-you page.
So, all your prospects who have gravitated to your webinar will be navigating through these pages. Now, since they registered for your event, they transformed into your leads. What can you do in advance, to connect your Google Tag Manager with ClickMeeting and – as a result – implement tags on those webinar pages?
Why does it matter? Because with every upcoming webinar, you will launch remarketing campaigns on social media, targeted at your leads who have already seen your webinar content. So, don't miss the opportunity to nurture them with some more quality knowledge.
Click here to find out how to easily integrate Google Tag Manager with ClickMeeting.
How to turn on Facebook Pixel with Google Tag Manager?
Most likely, Facebook will be one of your top choices when it comes to planning your webinar campaigns in the digital wild. This social media giant has its own tool for tracking user – the Facebook Pixel.
Luckily, there's a chance to use both – GTM and Facebook Pixel. In this section we will show you how to turn on Facebook Pixel with GTM.
First, choose the "New tag" option on your GTM dashboard: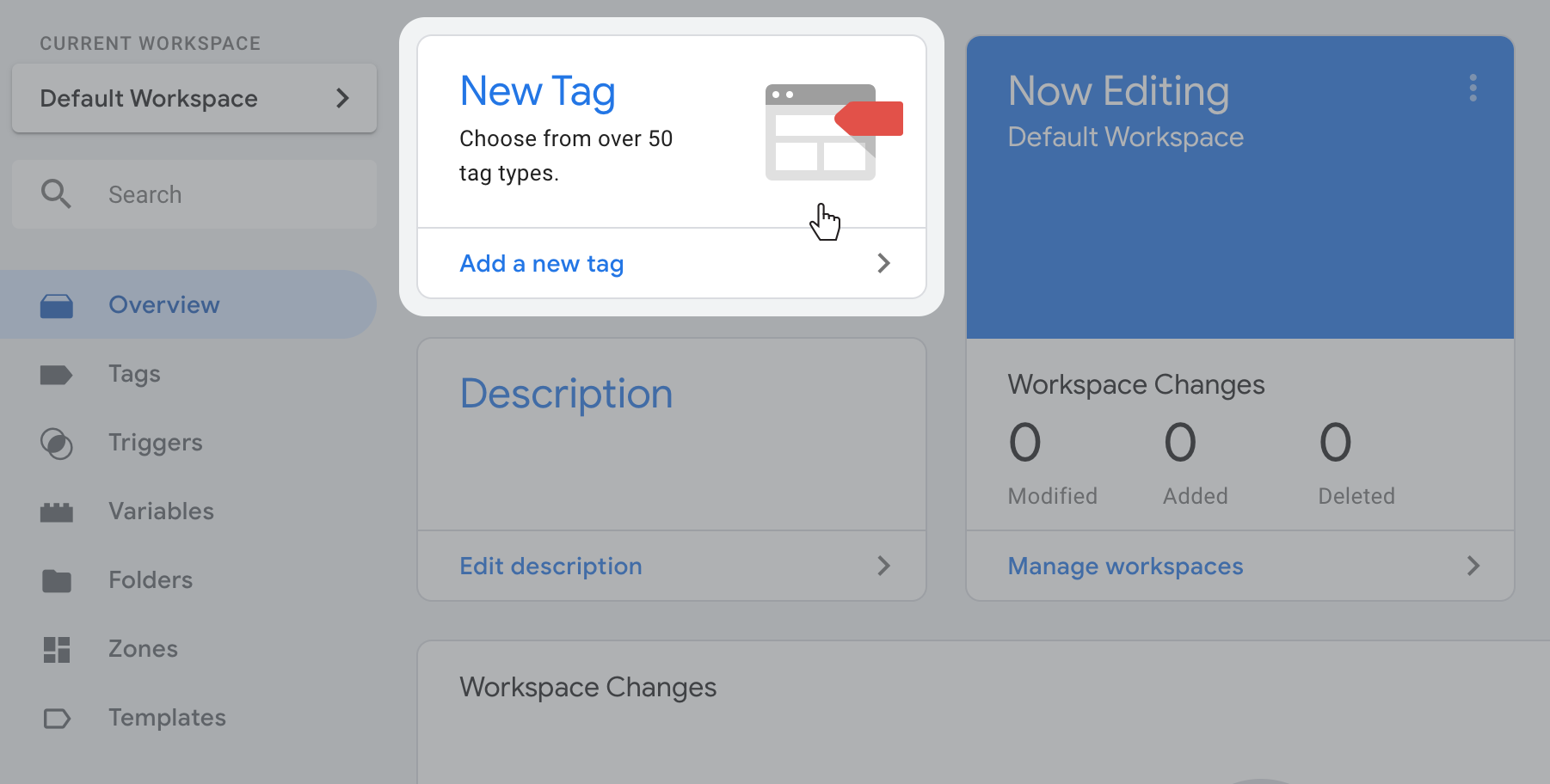 Second, choose a tag type to begin your set-up: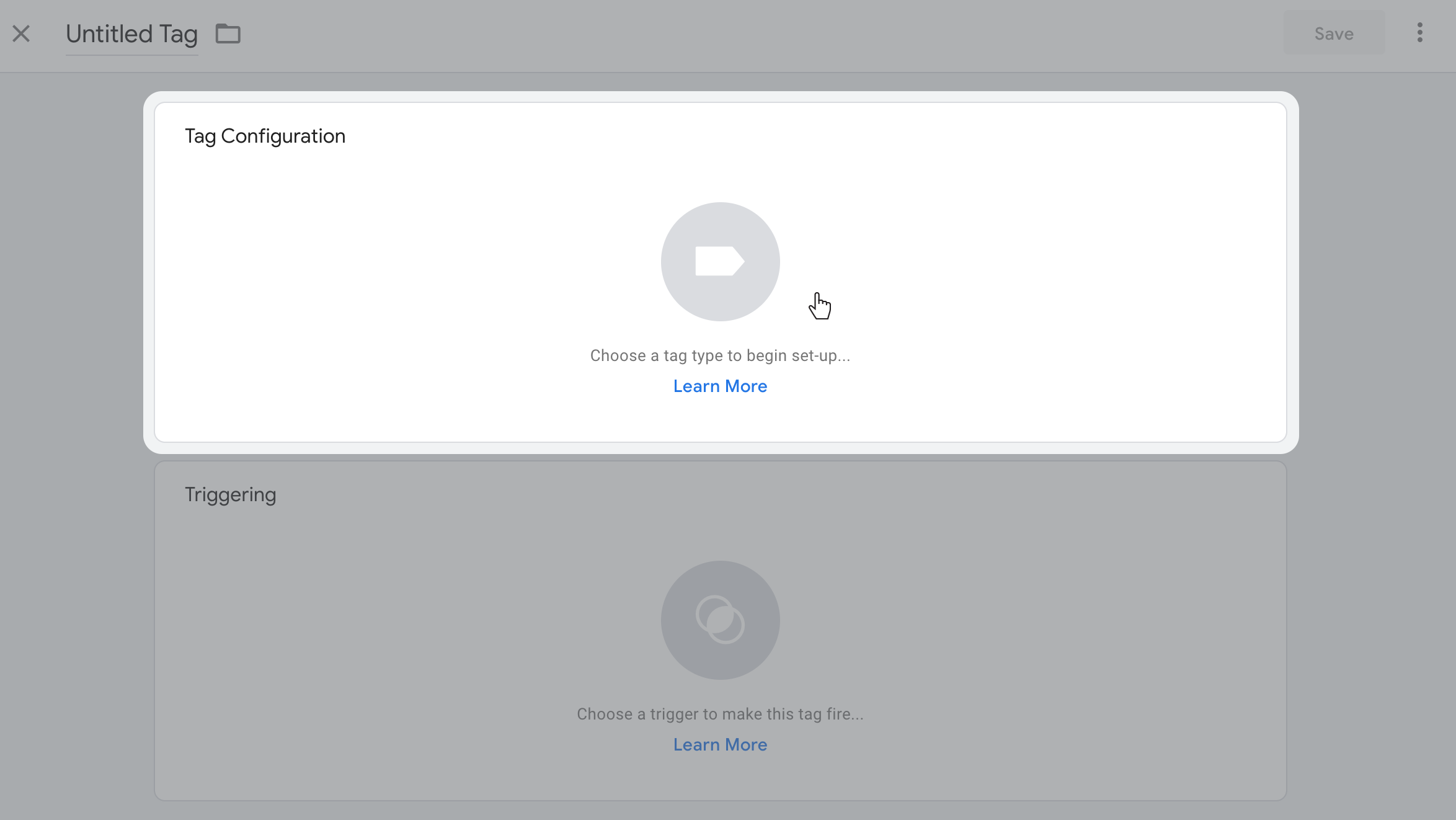 Third, click the "Discover more tag types in the Community Template Gallery" button, and – choose the Facebook Pixel from the list: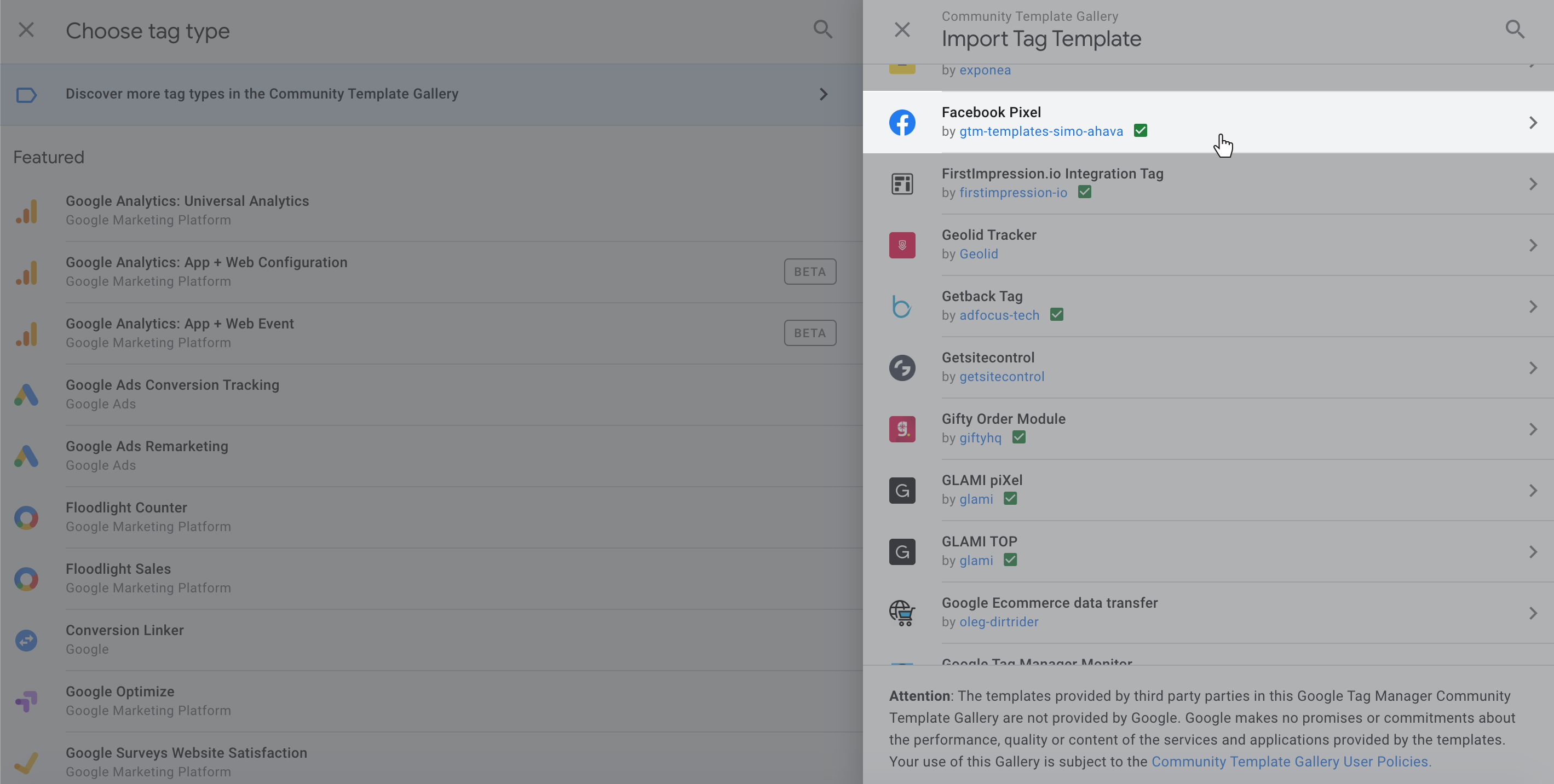 Last, click the "Add to workspace" button:

It is the way to configure Facebook Pixel within your Google Tag Manager account and to manage the Facebook tracking code and the rest of your tags from one place.
But to track your prospects and leads to retarget them with Facebook ads, you will need to integrate your ClickMeeting account with Facebook Pixel.
Click here to learn how to do it in seconds!
Are you ready to start effective webinar campaigns?
All in, connecting your webinar platform with Google Tag Manager will unlock new possibilities for reaching your target audience with your webinar content.
Having this integration under your armor will let you turn on the tracking codes and collect data to be used on various platforms. From one place, you will manage tags for remarketing campaigns on LinkedIn, Facebook, Twitter, Google Ads, or AdRoll.
Are you ready?