Have you been using webinars to generate leads for your business? Experts agree that webinars are one of the most effective lead generation tools available to marketers today.
Despite the effectiveness of webinars, however, not every marketer who has hosted a webinar has experienced success with them. Actually, 78% of webinars have an attendance of 50 people or less. The reason behind such dismal webinar attendance is its poor promotion.
It doesn't matter if you create the best webinar the world has ever seen. If you do not effectively inform your target audience about your webinar, no one will attend the webinar. So, what is the best way to promote your webinar?
In this article, we'll take a look at 3 of the most effective marketing channels you can use to promote your webinar and increase your webinar leads.
Create A Landing Page
Before we get to the three effective marketing channels for increasing webinar leads, there is one thing you need to get right – your landing page.
Your landing page is the page that anyone who clicks on your webinar promotion messages will be directed to. This page will play a huge role in getting people to register for your webinar.
You might do a great job by telling people about your webinar, but if you don't have a landing page that converts , most people will not register for the webinar. You might even use the money to advertise your webinar, but if your landing page is not optimal, you'll be wasting your money because most of the traffic you drive to this page won't convert.
Therefore, before you start promoting your webinar, make sure to optimize your landing page for conversions.
A well-optimized webinar landing page should contain the following information:
The title of the webinar;
The date and time of the webinar;
Information about (and, if possible, photos) those who will present in the webinar;
A short description of what attendees will learn from the webinar;
A registration form;
Once you are certain that you have a great landing page webinar, you can now move on to the three most effective marketing channels to increase your webinar leads, which are:
1.   Email
Email marketing is one of the most effective marketing channels, whether you're selling on Amazon, trying to increase your blog traffic, or getting people to register for a webinar.
Statistics show that 45% of marketers believe that email trumps all other channels when it comes to the webinar promotion. According to the Big Book of Webinar Stats/strong> over half (57%) of webinar attendees are driven by email.
What is it that makes email such an effective channel for marketing a webinar?
The effectiveness of email for webinar promotion can be chalked down to the fact that your email subscribers are a warm audience.
For a moment, I want you to imagine that you have created the best webinar in your niche. You then start sharing details of your upcoming webinar randomly on internet communities, such as Reddit.
Despite your webinar being the best on the topic, the people you're promoting the webinar to have probably never heard of you. They are what is known as a cold audience. It is their first time hearing about you.
To make matters even worse, you don't even know if they are interested in the topic your webinar is covering.
While some of them might actually register for your webinar, most of them will not, either because they do not know you or because they are not interested in the topic.
With your email subscribers, the situation is different. It is not their first time hearing from you. These people know and trust you, and you know they have an interest in your topic. Remember, they have so much interest that they signed up to your email list to receive regular content from you about this topic.
Therefore, when you promote your webinar to your email subscribers, there is a high chance that a good number of them will register for the webinar. You also have a higher chance of converting them into customers after the webinar.
When it comes to promoting your webinar via email, you should not send out one email and forget about it.
Instead, you should create a series of emails if you want to maximize attendance. The good thing with the right email marketing automation tools is that it is possible to automate the process and leave it to run on autopilot.
Here are the different emails you need to include in your webinar promotion email series:
Email 1: Webinar Invitation Email
It is the first email that you'll send out to your subscribers. In your webinar promotion timeline, such an email should be sent out a few weeks before the date of the webinar.
In this email, you should notify your subscribers that there is an upcoming webinar and encourage them to sign up for it. In this email, mention the topic of your webinar, a summary of the benefits that your audience will gain from it, as well as the time and date of the event.
Email 2: Confirmation Email
This email should only be sent to those who register for the webinar. In this email, you should thank your prospects for registering, remind them about the benefits they'll gain from the webinar, highlight the date and time, and encourage them to save the date in their calendars.
Since this email aims to confirm registration, it will not necessarily be sent as the second email. You should set it up so it will be automatically sent immediately after someone registers for the webinar, which, in some cases, might happen after two or more emails.
Email 3: Registration Reminder Email
This email should only be sent to those who did not sign up for the webinar after the first email. This email reminds your subscribers about your webinar and encourages them to sign up for it.
To increase its effectiveness, you can use tools like social proof or storytelling in the email to encourage registration.
Depending on how early you sent the first invitation email, you might have to send more than one registration reminder email.
Email 4: The Attendance Reminder Email
This email should be sent a few days before the webinar, and only to those who have registered for your event. It reminds those who registered to save the date in their calendars so that they don't end up missing the webinar.
You can also include a few teasers from the event in this email to build anticipation and show what they might miss out on if they do not attend it.
Email 5: It's Happening Now
Even after all your reminders, some of those who registered for the webinar might forget about it as they get caught up in their day-to-day activities.
Sending this final email about one hour before you go live will act as a final reminder and can be very crucial in getting people to attend the webinar.
Note: If you want your webinar promotion emails to be effective, you have to ensure that your email lists are segmented (this is something you can do easily with good email marketing software).
The registration reminder emails should only be sent to those who have not registered. Sending a bunch of registration reminder emails to someone who has already registered can be very off-putting.
2.   Facebook
Email is enough for getting people to attend your webinar. However, it only works for people who know you and are already subscribed to your email list. If you want new people to attend your webinar, you should think about other options. One of them is Facebook.
The great thing about Facebook is that it gives you massive reach. Facebook allows you to spread the word about your webinar to its over 2 billion active users.
Facebook marketing provides you with two main ways of promoting your webinar. You can either go for free (also referred as organic) or paid promotion.
Each of these approaches has its advantages and disadvantages, and if you want the best results, you should use a combination of the two.
Promoting your webinar organically on Facebook is quite straightforward. With this approach, all you need to do is sharing posts about your webinar with your followers.
You can either share these posts on your personal page, your business page, or in Facebook groups that are related to the products or services your business offers.
While the organic method is free, the downside is that its reach is very limited. If you want as many people as possible to know about your webinar, you should promote your webinar using Facebook Ads.
With Facebook Ads, you create an advertising campaign and define the target audience that you want your ad to be shown to, as well as the amount of money that you're willing to spend per day. Done well, this can be a great way of getting hundreds of people to register for your webinar.
Using Facebook Ads to promote your webinar has three main advantages:
It's cheap. Running a Facebook ad campaign is relatively cheap. You can achieve great results even with a budget of a couple of dollars per day.

It offers advanced targeting. The beauty of Facebook ads is that they allow you to target a very specific audience that you're sure will be interested in the topic of your webinar. You can target the audience to see your ad by demographics, location, interests, the activities they're currently involved in, and so on. It increases the likelihood that people will sign up for your webinar because your ad will be highly relevant to them.

It's predictable. After running a Facebook ad campaign and optimizing it, it becomes pretty predictable. For instance, if you know that your campaign is costing you $1 per sign up, this means that if you want an extra 100 people to register for your webinar, you need to spend an extra $100 on Facebook ads.
However, if you want to achieve the best results with Facebook ads, you should first test your landing page and make sure it converts. If you spend money on Facebook ads with a poorly converting landing page, you'll only end up wasting your money.
Before engaging in Facebook advertising, or any form of paid advertising for that matter, you also need to have your marketing KPIs defined. This will allow you to track the performance of your campaign and measure the effectiveness of your Facebook ads.
3.   Google AdWords
The third channel that you can use to effectively increase your webinar leads is Google AdWords. What makes Google AdWords effective is the fact that it is more intent-based, unlike other channels like Facebook Ads, which are interruptive.
When you use Facebook Ads to promote your webinar, the audience you're marketing is not on Facebook looking for webinars. They're just there to see updates from their friends and acquaintances. Your ads are therefore interrupting what they are doing online (though they still work if the content is relevant).
With Google AdWords, on the other hand, the people you are marketing to are actively looking for information related to the topic of your webinar. When they come across your ad, therefore, they are more likely to click on it and register for your webinar.
For instance, let's say someone is searching for information on "how to make money on YouTube." As they search for this information, they come across an ad for your webinar, which promises to cover the topic this person is interested in – generating revenue on YouTube.
In such a situation, there is a very high chance that this person will sign up for your webinar because you're promising to teach them something they are actively trying to learn.
Several reasons make Google AdWords a highly effective channel for promoting your webinar and increasing your webinar leads, including:
Precise targeting. Just like Facebook Ads, Google AdWords allows you to target a very specific audience that you want your ad to be shown to. You can target your audience by the keywords they are searching for, their location, their age, the device they are using, and so on. It helps to keep your ads relevant.

You only pay for results. Unlike other channels where you spend money even when your ad campaign is not working, Google AdWords allows you to use a pay per click approach. With this approach, you'll pay for every person who clicks on your ad, rather than everyone who sees the ad. This means that you'll actually be paying for results.

Highly detailed performance tracking. Google AdWords also allows you to track how your ads are performing in great detail. With these insights, you can then optimize your ad campaign for even better results.
Ready to Increase Your Webinar Leads?
While webinars can be very successful for lead generation, you won't see any results if no one knows about your event. In other words, you need to get people to attend your webinars if you want them to be an effective tool in your marketing arsenal.
In this article, we have shared with you three of the most effective marketing channels that you can use to promote your webinar and increase your webinar leads.
Use a combination of the three, and you'll no doubt see an increase in attendance for your webinars. For instance, you can integrate Facebook marketing and email for increased conversions.
After attracting a high number of attendees to your event, you also need to ensure that you're using one of the best webinar software platforms if you want to provide a great webinar experience and delight your audience.
---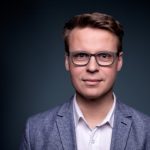 About the author:
Martin Luenendonk is a 3x serial entrepreneur and business model innovation enthusiast.