As a sales specialist, a digital marketer, or an online teacher, you are perfectly aware that to keep up the pace in this crazy world, you need to optimize your strategy. Webinars as such are a fantastic inbound marketing tool, but also, they grew up to work as stand-alone businesses. Either way, unless you're a heavyweight champion in your niche, it's getting harder and harder to attract leads and convert them into customers. To help you out, we've decided to come up with a new concept for webinar growth – and we called it webinar flywheel.
In the foreword for Garrett Moon's "10x Marketing Formula" book, Jay Baer nailed it saying:
The internet is noisy, and it gets louder every day. The supply of content from people, places, and businesses is a glut, at best.
The challenges for webinar hosts come in line with the pain points the majority of digital business players have to cope with:
How to get your target audience sail to your content?

How to make them press the final button and turn into your customers?

What's the best way to make them stay with your brand for longer?
And finally – is there a chance to work out a method to achieve growth in the form of a self-perpetuating machine?
Webinar hosts' greatest enemy
Before we dive into answering those significant questions, let's find out what's the name of the biggest enemy that webinar business runners have to face.
What's the most significant pain point of, literally, every business operating in the web? Not competitors, nor the law regulations, neither the changeable Google nor Facebook algorithms. Although these problems are real and we don't want to underestimate them, the real enemy is above them. And its name is TIME.
You can analyze and outsmart the competition, adjust your company to the new law regulations, and finally, adapt to the unstable algorithms released by the technology giants. There are tons of other challenges you need to face, like generating leads, converting them into customers, and make them stay with your brand in the times where customers are much less loyal to brands then they used to be. All that is possible to conquer but to do it you need TIME.
The same dynamics apply to the webinar world
Video conferences and webinars open tremendous opportunities and bring positive results. Digital marketers and salespeople love them, and so do online teachers.
However, to make your webinar business thrive, you need to take care of:
Scheduling and hosting hundreds of events,

Promoting them to reach your target audience,

Converting webinar attendees into customers,

Sending follow-ups to those who didn't convert (or didn't attend in the first place),

Creating an excellent experience to earn their loyalty and endorsement.
In the end, your ultimate goal is about increasing your revenue and spinning the wheel to achieve webinar growth.
All those activities (and there's much more behind above bullet points) are time and effort consuming.
That's why, here at ClickMeeting, we have come up with a concept to achieve your goal and to help you save your time along the way.
Here is our idea of the webinar flywheel!

Flywheel vs Funnel
Although the term "Flywheel" is not new, it is the Funnel that dominates the mindset of managers responsible for forging sales and marketing action plans.
And, honestly, at ClickMeeting, we have been making the most of the funnel for the sake of our campaigns. Promoting live webinars with video marketing rock stars like Owen Video is just an example.
So, what's the story with Flywheel?
In a nutshell, this methodology is an alternative to the traditional marketing funnel. Although the majority of companies, have been (and still are) pursuing their marketing activities through a funnel, the Flywheel term has been like honey to the most eager bees.
Rand Fishkin from Moz presented his Marketing Flywheel back in 2013. He regarded it as a fantastic, result-driven concept to generate more website traffic through self-reinforcing SEO, social media, content, and e-mail marketing actions. What he emphasized was to be more willing to invest in a long-term strategy and relationship-building.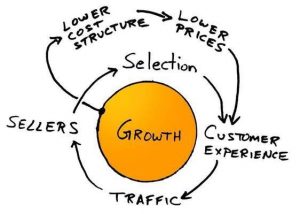 But the idea of a self-perpetuating cycle is slightly older than that. Back in '90s, Jeff Bezos forged the virtuous cycle that has become an engine for Amazon.
As you can see, the customer experience has a direct impact on traffic and growth is in the heart of the cycle.
Coming back to our decade, in 2016 HubSpot embraced the Flywheel and retired the Funnel. It was an utterly significant shift because as a marketing platform, they have been using funnels by definition.
Why did they decide to do it?
Quoting after Jon Dick, Vice President of Marketing at HubSpot:
Despite the Funnel being my first love, I have to admit its linear approach to measuring growth is a huge weakness. Funnels produce customers but they don't consider how those customers can help you grow. And all the momentum you built acquiring that customer? Gone. Each day, each month, and each quarter, we have to start new.
As a result, HubSpot released their Flywheel concept —->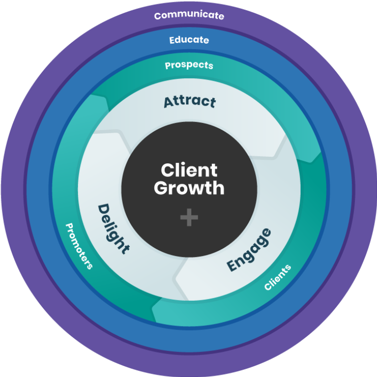 What we loved about this idea is that the circle consists of other smaller circles:
Communicate – as a general idea for inbound marketing.

Educate – this is crucial! We'll explain why it matters so much.

The customer life-cycle: Prospects -> Clients -> Promoters.

The stages: Attract -> Engage -> Delight.

Client Growth in the middle as the ultimate goal.
This approach inspired us to implement it in the webinar business and to create our Webinar Flywheel.
What is a webinar flywheel?
As digital marketers ourselves, we have been using and advising to use funnels to drive webinar businesses. Moreover, in our latest State of Webinars 2019 Report, we have included some impressive outcomes.
The numbers speak for themselves. Webinars have a proven record of delivering results at each stage of the funnel, especially in the B2B environment:

You might be thinking – why then should I change my marketing preferences to Flywheel?
Stay with us! If webinars are a part of your inbound marketing campaign, we still highly recommend using them at each stage of the journey.
However, our webinar flywheel is designed to run webinar businesses and increasing your sales results with webinars.
Here's our general idea: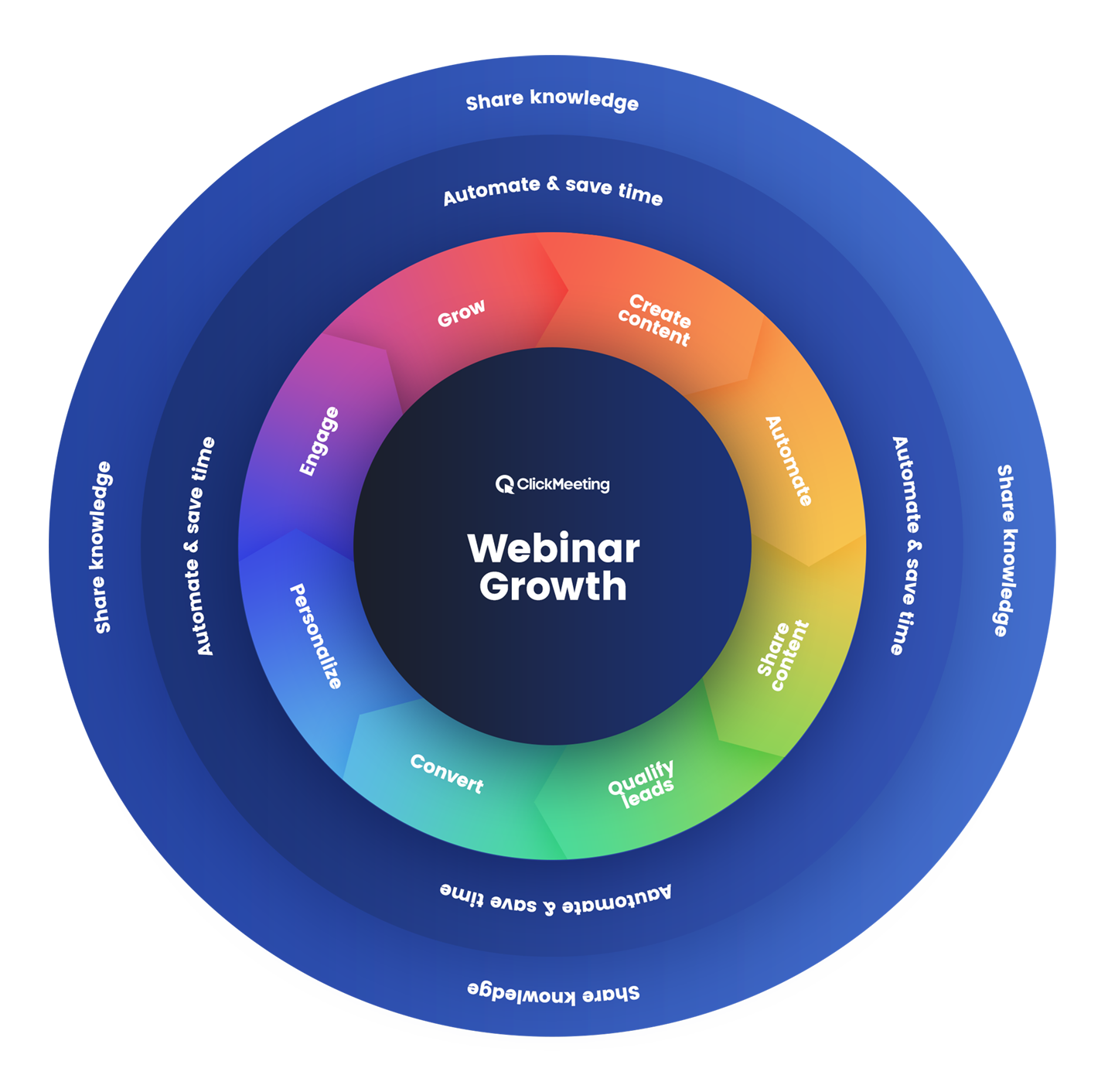 As you can see, we have worked it out differently, taking into account the specifics of hosting and scaling-up webinars.
Let's break it down.
Knowledge sharing is the new oil
The first circle is about education, and it covers all the stages of the cycle. Why? Because educating customers means giving them real value, and sharing knowledge is something they're looking and willing to pay for.
It works for everyone. If you're a marketer who inspires and builds relationships through webinars, you share knowledge. When you're a sales specialist and showcase HOW your product works, it means you share knowledge via product demo webinars. Finally, running online courses with webinars couldn't be more about sharing knowledge with your audience.
Automate & save time
As we mentioned at the beginning, running webinars on a big scale requires plenty of time. Imagine all the work:
Scheduling numerous online events,

Inviting your audience,

Promoting on social media,

Hosting live webinars,

Managing surveys, Call-To-Action buttons, live conversation on Chat, etc.
And that just a beginning. What about reminding attendees about your event? What about sending follow-ups after your event? How to reach your leads who didn't show up at the event?
With the automation injected in the entire webinar flywheel, you can take most of the hard work off your shoulders and save loads of your valuable time.
Now, let's decipher the stages of the cycle:
Create your content
That's your starting point. At this stage, you already have the knowledge you want to share.
If you're already an expert in your niche or have a ready product you aim to sell, this stage is natural. All you need to do is to wrap your knowledge up in webinar scripts and presentations and record the events you will share later on.
If, however, you still need to produce content, take your time to define your audience and their needs. Do some research with tools like Google Trends, BuzzSumo, SEMrush or AnswerThePublic, and analyze what sort of content will address the pain points your prospects have.
Automate
You're entering the setup phase. At this point, you can be prepared for various scenarios. You can decide how often the webinar platform will automatically remind your attendees about your webinar. Just imagine setting up your Thank-you email which is sent after the event is over, or an invitation to other, upcoming webinar.
But there's much more, and we will reveal that soon!
Share your content
That's the moment of truth. You're releasing your webinar content to the world, inviting your prospects, promoting it on your social media channels, and waiting for it to move the needle.
Although, we are going to precisely explain what to do, here's a teaser – this stage is about publishing a few events to check out which content will be the most attractive one.
With this small set of webinars, you will generate your leads and be able to…
Qualify your leads
Now, time to analyze your webinar statistics and draw some conclusions. Which content attracted the biggest crowd? What can you tell about the audience of the winning webinar? What do they need most?
With the help of your CRM, you can group your leads, and choose the qualified ones. Revamp the content they were interested in and prepare to pitch them with your offer.
Convert
In other words, close your sales with a strong Call-To-Action during your next live webinar. You have invited your qualified leads to the event, polished up and advanced the content, so it's all now in your hands.
It's a chance to redirect your webinar attendees to your landing page where they will find a sign-up or a buy-now form. Time to convert your leads into customers.
This step is also an outstanding opportunity to know your customers better. Make the most of a survey to understand their mindset.
Personalize
After you uncork a champagne bottle, because of the number of new customers, you need to deliver quality, and you need to do it fast.
Learn from the most successful e-commerce brands – they know that nowadays, customers demand a highly-personalized approach. Otherwise, they won't stay for long.
Dive into surveys you conducted in the previous step. Knowing more about them will help you to personalize your webinar content even more.
Engage
Remember Amazon's virtuous cycle? Jeff Bezos concluded that customer experience has a direct impact on higher traffic.
That's where you are right now. Create a good experience for your customers with a set of top-class webinars that empower your audience with in-depth insights and help them to achieve their goals faster and more effectively.
Why is it so important?
Grow
By making sure your customers have experienced something amazingly beneficial, and the communication with your brand was more than splendid, you have earned their loyalty and endorsement.
Bear in mind what Rand Fishkin from Moz (currently SparkToro) said about building strong relationships. This is the moment to capitalize it.
Give your customers a reason to promote your brand and your webinar offer on their social media channels. Ask them for video and written testimonials and deploy a campaign that will boost sign-ups for your upcoming webinars with the same content or a brand-new one.
By closing the cycle, you achieve the goal placed in the heart of the Flywheel, and that is your webinar growth!
Are you ready to dive deeper?
Okay! We walked you through our general webinar flywheel concept. As you can see, instead of pursuing a linear funnel approach, you can build a cycle with complete defined stages.
It's an agile framework we have designed for scaling-up your webinar business. Webinars are not a fast-food. They are premium content, so they also require commitment and a thoughtful action plan.
Most likely, you've got loads of questions at this stage. If you are ready to take the Webinar Flywheel under a microscope, we have an insanely detailed scenario on the example of running online courses with webinars.
All you need to do is to sign up for a free trial and get early access to our free e-book "Webinar Flywheel – The Ultimate Step-by-Step Guide".