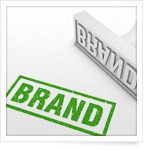 I bet you've wondered what it would be like to arrange your online meeting room just the way you want it. Brand it with your logo, colors, and graphics, customize the layout and functionality – make it truly your own. Just as you would design and arrange the conference room in your office to impress your guests. Only much, much faster. Well, ClickMeeting can help you with that, and it's easy to do!
.
One of the really great things about ClickMeeting is that before you host a meeting and invite people to join, you can personalize it first. This way, you get to invite people to YOUR company meeting, and they'll recognize your brand at first glance. You can even add the logo of the prospect or customer you're meeting online. I guarantee they'll be impressed!
.
Here's how: once you've logged into your account, choose the "Personalize your meetings" option on the right.
.

.
You'll enter an intuitive editor that will let you create a skin for your meetings:
.
Change colors of backgrounds, titles, buttons, etc.
Add your logo, or any other graphics.
Upload a background image.
.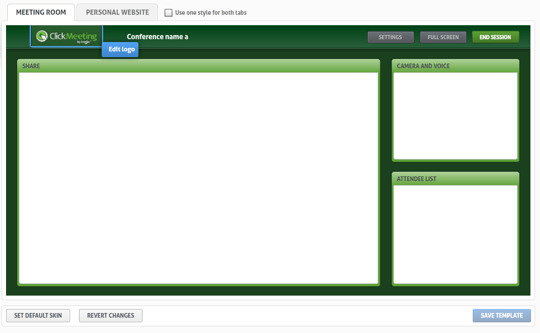 .
You can do the same with your personal ClickMeeting website, choosing a slightly different style, or using the same skin for consistency. It's completely up to you!
.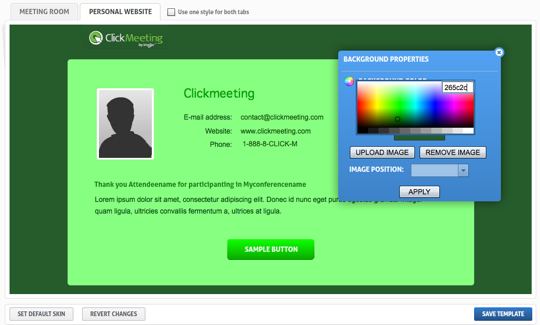 .
Your personal page can also include a photo, signature and information about you, or your team, plus a list of upcoming events.
There are countless options here, so feel free to use your imagination. And your brand identity, of course.
.
We all know it's not just about the look and feel. (Though it's a really important factor…). So once you're done with the design, let's look at ways to personalize the meeting experience – from start to finish.
.
You can:
.
Customize your meeting URL.
Leave a lobby message for your attendees.
Embed your meeting room on your company website.
Secure the meeting with a password.
.
Before you start the actual meeting, you can also prepare the room layout according to your goals.
.
Choose whether to share your desktop, use the whiteboard, or show a video.
.
.
Shuffle the elements around, resize or hide them for an optimum layout.
..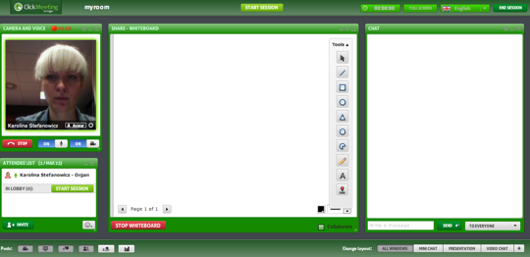 Now it's time to invite your guests in and start the meeting! But we'll cover this in detail next time. Meanwhile, sign up to ClickMeeting and please tell me what your meeting rooms look like.